A Track outta Upstate New York
---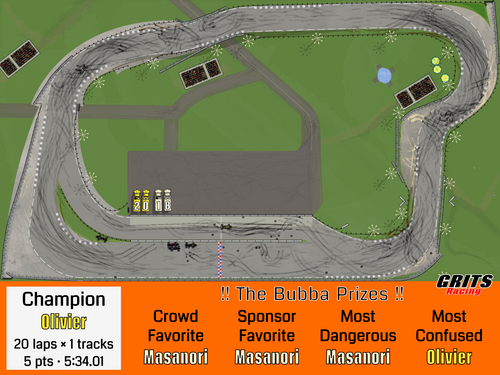 A track based on Watkins Glen International has finally been rigged up and is in testing. Because we can't produce long raceways at actual length, we have to shorten them... a lot. Thus, this feels a bit like a minigolf version of "The Glen" -- which is pretty much what we are going for. Just long enough to be fun while still fitting into a compact space. This track is somewhere in the neighborhood of 500 meters long (or 1/3 mile) and The Glen in their "short" configuration is about 4000 meters.

Seen here is the race image the game produces for sharing after the race. This was Brooks and me testing the track for the first time together... and Brooks won the race by two laps... in the pit lane! as seen in this photo finish. (But, I, of course, was the crowd favorite.) There is still more to do with this track but most of the important bits are there.
This track is also our first test at 10 pixels per meter instead of the 12ppm we've been testing at before (hockey being at 15ppm). In other words, the cars appear noticeably smaller on screen on this track. This is likely the smallest we will go in that direction except for maybe weird stuff we might supply through DLC. Anyhow, I'm happy to report that the scaling code that was in place before this worked perfectly and the game should work fine with any scale we choose to build tracks at (but we will likely restrict that to 10ppm and 12ppm for most tracks and 15ppm for some minigames).

In other news since the last update, the "Kapow!" work has been testing well and the game is starting to show some entertaining attitude from it. The tweaks to bring the dark-side players into balance also seems to be going well but we haven't had a chance to deeply test that yet.