Version 0.4.1 Released - A.I.-based Wodifiers
---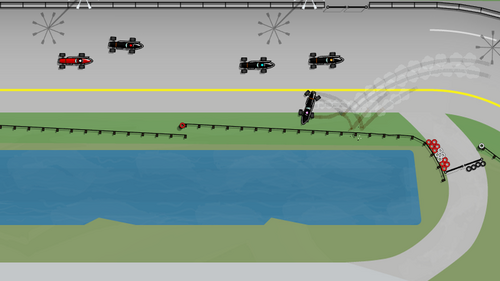 Because some weren't "getting" the perhaps-too-humanlike oddball A.I.s built into the game, and/or just thinking the A.I. was not well done because some of them crash around a lot (due to their intentional and varied personalities), I had the idea to use a couple of these personalities to create a couple more "wods" (Wacky Wodifiers/Leader Lamifiers) for the game. Because the needed personalities were already built, it just took maybe only an hour or two to add and test these wods. There was already a speed racer personality for the "Bring it on" racing wod. And there was already a heat seeker personality for the "King of the hill" leader-lynching wod. With a tweak of some of their settings to make them more interesting for their particular wods, and they were good to go. I can always tune them a bit more later if needed.
I must admit, it is sometimes more enjoyable, when playing alone, to race against four racing A.I.s instead of just the one in the default group of A.I.s. Although... they are pretty easy to beat on the tri-oval if you get an early lead and don't crash. They do, however, get more interesting and challenging on more interesting tracks.
New features:
Added the "Bring it on (Racing A.I.)" wacky wodifer. Turns all A.I.s into racecar drivers.
Added the "King of the hill" leader lamifier. Turns all A.I.s into leader lynchers (and, otherwise, overly aggressive drivers).

If both "Bring it on" and "King of the hill" are turned on, they spit the A.I.s between them.

Added text to the leaderboard pages that shows which leaderboard you are looking at.
Changes:
Minor menu changes and other code changes.
Files
gritsracing-win64-demo.zip
39 MB
Version 0.4.1
Jul 22, 2022
gritsracing-win32-demo.zip
36 MB
Version 0.4.1
Jul 22, 2022
gritsracing-macos-demo.zip
41 MB
Version 0.4.1
Jul 22, 2022
gritsracing-linux64-demo.zip
42 MB
Version 0.4.1
Jul 22, 2022