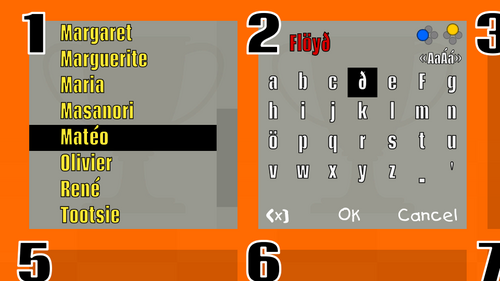 Features or content? That is a tough question at times when choosing what to work on next. This time, I chose features since many features that should make this game more attractive are still missing. At long last, you can finally enter your own driver names. Most of the Western European accent characters are also supported (use the X and Y buttons to change the keyboard key). Names are saved for later easy selection. 100 names can be stored. Saved names can be deleted with a tool found under the Game Options menu.

This was also a significant hurdle in the way of getting to the leaderboards feature. I suspect I'll get to the leaderboards next as it is pretty important to those solo players. Still so much to do.

I had hoped to get to name entry sooner but it was no small amount of work to do it right. Building menu features in Unity is a lot more work than just about any other tool. Building menu features for the player punch-in windows is even more work since you lose what little help Unity gives you when building UI for simultaneous players and you have to build the event and focus system yourself. I had a good foundation in place from the early punch-in windows... but it was still maybe 60 hours of work. Time like that is hard to find in a world where you are desperate for work but somehow not cool enough to be hired by anybody anymore.
New features:
Name selection and new name entry and storage.
Files
gritsracing-win64-demo.zip
39 MB
Version 0.3.8
Jun 15, 2020
gritsracing-win32-demo.zip
36 MB
Version 0.3.8
Jun 15, 2020
gritsracing-macos-demo.zip
41 MB
Version 0.3.8
Jun 15, 2020
gritsracing-linux64-demo.zip
42 MB
Version 0.3.8
Jun 15, 2020