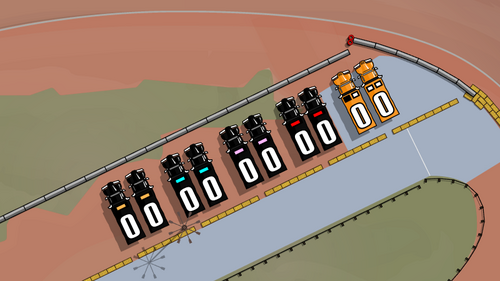 On the heals of the last release which brought a small but fundamental change, here comes another small but fundamental change. I have kicked the AI NPC cars out of the race when you are playing with several friends. After all, playing against friends should be about playing against friends and not the AI. And, well, it seems 6 cars is chaotic enough, which makes 12 cars just plain absurd. This also allowed me to find a simple solution to the AI UI problem: the AI now have trucks with the usual lap counters (I had not done this previously because space is reserved for only 8 players here). This also has the nice side effect that single-player mode feels more interactive. AIs are still limited to 1 car each. Anyhow, here's the rundown of when AI cars will appear:
1-2 players = 4 AI cars
3 players = 3 AI cars
4 players = 2 AI cars
5 players = 1 AI car
6-8 players = 0 AI cars
The more aggressive AI personalities are eliminated first.
0.3.5 changes:
Player count vs AI count changes.
Trucks and lap counting for AIs added.
Checkered flag added on win.
Files
gritsracing-win64-demo.zip
39 MB
Version 0.3.5
Jan 19, 2020
gritsracing-win32-demo.zip
36 MB
Version 0.3.5
Jan 19, 2020
gritsracing-macos-demo.zip
41 MB
Version 0.3.5
Jan 19, 2020