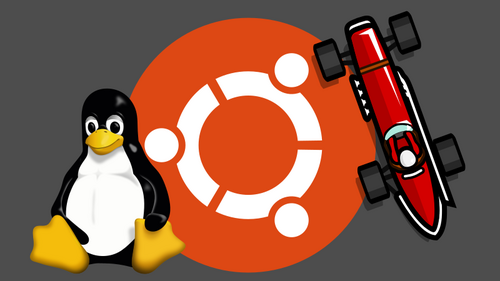 Admittedly, GRITS Racing is a small fish in a big pond... so... time to find out what it is like to be a small fish in a much smaller pond. Thus, I took the plunge to run and release a build for Linux. It was a bit of trouble -- and perhaps a waste of time -- but not that bad as most tools were ready to go for Linux. Also, this paves the way for building for the Atari VCS when it arrives. More on the Linux build further down.

0.3.1 updates:
Wwise plugin updated from 2018.1.6 to 2018.1.10 to fix a bug in the Linux build.
Windows and Mac will likely not see a build of version 0.3.1 since I see nothing else in the plugin update that would affect the game much on those platforms.
In other news (for my November update) I hope to start work on a new track soon even though my new job is sucking a lot out of me with their insanely-complex proprietary tools they build their simulator with. We'll see. I also see I need to move the game towards "full controller support" sooner than previously prioritized so I can jump on the new "Remote Play on TV" tag in Steam. To do this, I need to expand the options menu to include settings currently handled by Unity's launcher.
Steam tagged GRITS Racing for their new "Remote Play Together" feature but I haven't tested it yet. But, for those asking for online multiplayer support, maybe this will work well enough for now.
Linux
Regarding the Linux build, here's the excerpt from our readme:
A Linux build has just been added to the OS offering. Future Linux support is not guaranteed. Currently, 64-bit Ubuntu 18.04 with Nvidia drivers is the only supported configuration, and is not yet considered a high priority. At time of release, the Linux build has only been tested on Linux Mint 19.2 64-bit (Ubuntu 18.04 base). This was on a pretty outdated mid-2010 Mac Mini with a 2.4 GHz Core 2 Duo and a GeForce 320M and performance was good with the "Faster (2x AA)" game option (8x AA was too slow).
OpenGL 3.2 or later is required. This would roughly include Nvidia since 2006 (GeForce 8), AMD since 2006 (Radeon HD 2000), and Intel since 2012 (HD 4000/IvyBridge). Good luck with drivers other than Nvidia.
The SLD2 library must be installed if not already. Hint:


sudo apt install libsdl2-2.0-0
The Unity Launcher may require other libraries such as libcanberra-gtk-?. If having trouble, launch from the command line to see any messages.
Files
gritsracing-linux64-demo.zip
42 MB
Version 0.3.1
Nov 17, 2019