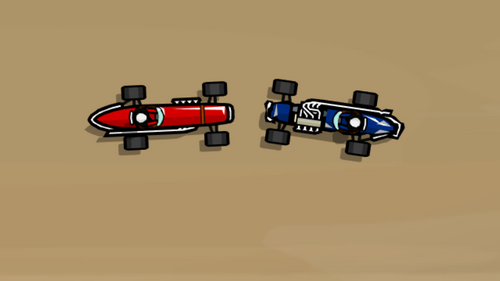 Version 0.3.0 doesn't add much that will be noticeable over the last 0.2.x version -- it is more of a wrap to all the 0.2.x edits. That said, there was still a ton of hard work behind this update. Most of that was on those barely-noticeable shadows. The shadow controllers were rebuilt, and then rebuilt again, until I found the right setup for optimal performance with shadows on both static and dynamic objects as well as optimal track editing. Thus, just about every object was updated (and updated again) even if not significantly so.

New features:
All objects (of any significant height) now have a shadow (of one sort or another). This adds a tiiiiiny bit more depth to the track. Sometimes I think it works well... and sometimes I think it is silly looking and not worth the effort. We'll see where it goes from here.
Fixes:
The larger/wider wheels now show the smoke and dust they generate (only the standard wheels were doing this correctly before). The wheel shadow for the larger wheels was also on the wrong layer. Not sure why these things weren't fixed much sooner. I suspect I had noticed it during smoke/dust development, and then forgotten in some rush to publish. But, I really can't remember. Regardless, I can't believe it took me this long to notice and fix the smoke/dust problem.
Many, many, other minor tweaks and sprite updates not worth listing.
Files
gritsracing-win64-demo.zip
39 MB
Version 0.3.0
Sep 25, 2019
gritsracing-win32-demo.zip
36 MB
Version 0.3.0
Sep 25, 2019
gritsracing-macos-demo.zip
41 MB
Version 0.3.0
Sep 25, 2019